Paracord is a versatile and durable cordage that has gained popularity over the years for its strength and flexibility. Originally used by the military for parachute suspension lines, paracord has now become a staple in the survival and outdoor community. It is known for its ability to withstand heavy loads, making it ideal for various applications.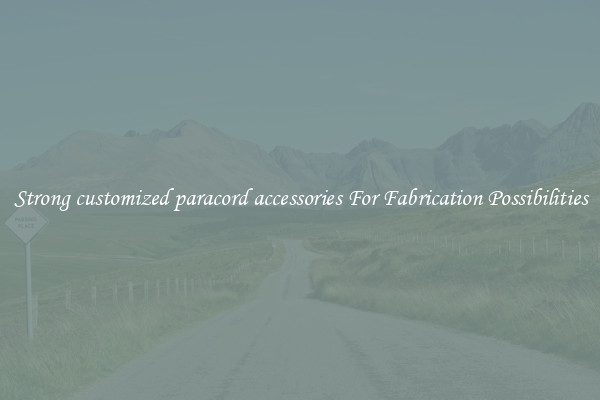 One of the reasons why paracord is so popular is its customization possibilities. It can be easily woven into various accessories and gear, allowing individuals to personalize their items according to their style and needs. From bracelets and belts to dog collars and rifle slings, the possibilities are endless.
One of the most common paracord accessories is the bracelet. It is not only fashionable but also serves as a functional survival tool. These bracelets are typically made with several feet of paracord, which can be unraveled and used in emergency situations. It can be used for making a shelter, trapping animals, or creating a makeshift fishing line. Having paracord on your wrist ensures that you always have a strong and reliable tool within reach.
Belts made from paracord are also a popular choice. They provide a secure fit while also offering the versatility of having a strong cord readily available. In emergency situations, the belt can be unraveled, providing a long length of paracord that can be used for various purposes. This makes it an excellent tool for hikers, campers, or anyone who wants to be prepared for unexpected situations.
Dog owners have also discovered the benefits of paracord. Collars and leashes made from paracord not only look stylish but also provide durability and strength. The cord can withstand the pulling and tugging of even the most enthusiastic dog, ensuring that the collar or leash remains intact. In addition, many paracord dog accessories come with additional features such as built-in whistle buckles or detachable leads, making them even more versatile.
Paracord can also be used to create rifle slings, keychains, watchbands, and even hammocks. The strong and lightweight nature of the cord makes it ideal for any application that requires reliable strength.
In conclusion, paracord is a strong and versatile material that offers endless customization possibilities. From bracelets to belts, dog collars to rifle slings, the options for paracord accessories are vast. Its durability and strength make it a reliable tool that can be used in various situations. Whether you're an outdoor enthusiast, a survivalist, or simply someone who appreciates high-quality craftsmanship, paracord accessories are a must-have. So, go ahead and personalize your gear with strong customized paracord accessories for endless fabrication possibilities.